Roger Federer and Rafael Nadal absolutely dominated men's tennis between 2004 and 2010, winning 24 of 28 Grand Slams available in that period. But they started the 2017 season without a Grand Slam victory between them in almost three years and, at a combined age of 65, some wrote them off as a pair of has-beens. How wrong that prognosis proved, as they are set to end the season as world number one and two once more, having won two Grand Slams apiece and not given anyone else a look in. It really feels like we have slipped into a time warp and gone back to 2010, the last year in which the Swiss and the Spaniard monopolised the Grand Slams.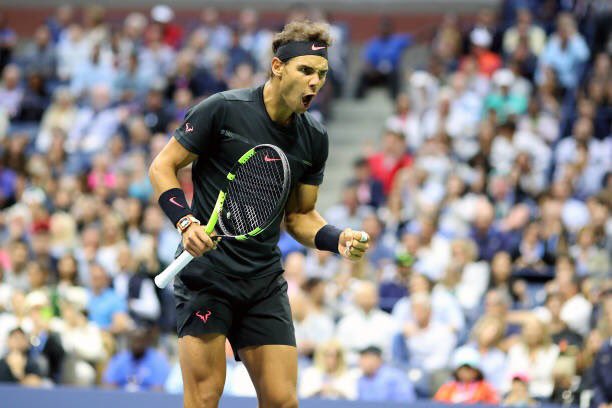 This was supposed to be the year of Andy Murray after the Scot finally overhauled Novak Djokovic to become world number one at the tail end of 2016. Djokovic had injury woes and off the court problems and this was Murray's time to capitalise, as the Serb had so frequently been the only thing stopping him from adding to his three Grand Slams. But Murray's season has also been dogged by injury and he is now sidelined, having limped through a few tournaments to little effect. The top two players in the world have now tumbled down the rankings and they face a real battle to recover in 2018.
This power vacuum could have been filled by exciting whippersnappers keen to make a name for themselves, but instead Nadal and Federer capitalised to deadly effect. The evergreen Swiss stunned the tennis world by seizing the Australian Open at the start of the year, his first Grand Slam since 2012. Federer could have given up and retired during that period in the wilderness, but his persistence paid off and he is now reaping the rewards. Less surprising was Nadal's victory in the French Open as the Mallorcan is a clay court specialist and had already won the tournament a record nine times. But it really highlighted the benefits of the rehabilitation Nadal had undergone after a couple of injury-hit years. Murray and Djokovic should take note.
Judicious rest was the key to Federer's season as he skipped the entire clay court campaign to leave him perfectly fresh for Wimbledon. Lo and behold he coasted through to the final, where he destroyed Marin Cilic. The Swiss went into the US Open as the huge favourite, but lost in a shock quarter-final result against seasoned battler Juan Martin Del Potro. Once again a power vacuum opened and once again the rising stars of the men's game failed to take advantage as Nadal nipped in to win the 16th Grand Slam of his career, easily overwhelming the unheralded Kevin Anderson in the final.
It is a good job Federer did not retire before this season as Nadal would only be one behind him in the all-time list of Grand Slam winners if he had. As it is he maintains his cushion of three trophies as he now has 19 majors to Nadal's 16. The big question is: now that they are 36 and 31 respectively, can Federer and Nadal add to their tallies in 2018?
The answer has to be a resounding yes. The road back to the top will be long and treacherous for Murray and Djokovic, who are both wrestling with assorted demons. Meanwhile, the emerging crop of young stars has flattered to deceive. The highest hopes were reserved for Alexander Zverev, who reached number four in the world this summer at just 20 years of age. He won five tournaments this year, including a famous victory over Federer to scoop his second Masters 1000 title. But he flopped in the Grand Slams and has still never made it past the fourth round at one. Dominic Thiem looks to be the heir apparent to Nadal on clay and already has two French Open semi-final appearances under his belt, at the tender age of 24, but right now he is a pretender to the throne. Bernard Tomic, Nick Kyrgios and the rest of the young brigade are too inconsistent right now to be genuine contenders.
Anderson is 31, Del Potro is 28, Tomas Berdych is 31, Sam Querrey is 29 and Cilic is 28 and these players – who all made it to the latter stages of Grand Slams in 2017 – have remained firmly in the large shadows cast by Federer and Nadal for the past decade, so there is no reason why that should change anytime soon. The current tennis markets have Federer and Nadal as favourites in practically every match they go into. They have overcome injury problems and defied age constraints this year in remarkable fashion, and deserve huge praise. Next season Nadal will be the overwhelming favourite to win the French Open and as things stand Federer will be the favourite for the other three Grand Slams. If they maintain their fitness there will be no stopping them in 2018.
Comments
comments