The 2017 Cheltenham Festival runs from 14-17 March this year.  It is one of the sport's most popular events and this year is expected to be no different as the nation will once again be swept by horse racing fever.
Gamblers and racing fanatics will be looking forward to embarking on an unrivaled path of excitement later this year.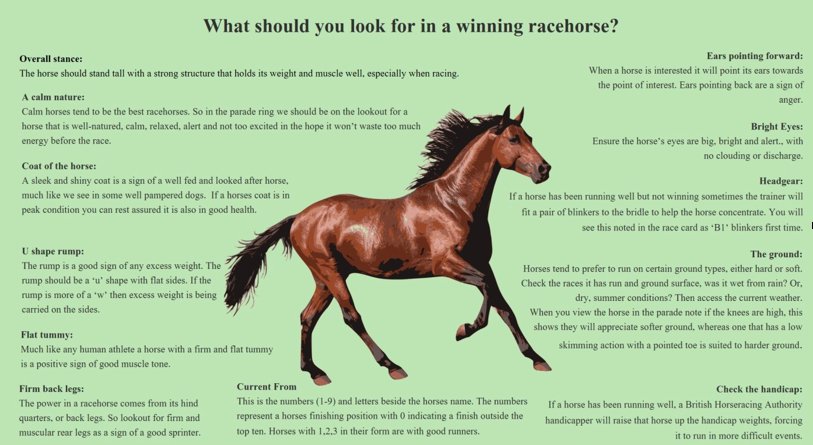 Over 200,000 racegoers are expected to attend over the four days, coming from all over the world.  More than £500 million is expected to be gambled over the course of the event with the 2017 Cheltenham Gold Cup one of the most anticipated races.
If you're at the event and wanting to place a bet on a winner, here's a list of things to look for when viewing the horses in the parade ring:
Bone structure
A horse that is well-balanced and has a firm, athletic body with good feet structure could get you off to a winning start.  This gives us a sign that the horse is able to handle the pressure of racing as well as carrying its weight.
Coat
When looking out for your winner, a horse with a sleek, gleaming, shiny coat should catch your eye.  This is a very important feature as it is a sign of the horse's well-being and that it is in peak condition.  A horse that is looking good is usually feeling good!
Calm nature
Horses that are calm tend to be the most successful racehorses.  When you're having a look in the parade ring keep an eye out for the horses that are calm, relaxed, alert and not too excited.  That way they're not wasting too much energy before the race has even begun.  Whereas a horse that is looking uneasy and sweaty in the paddock suggests that it won't be able to handle the pressure of the race.
Muscles
A racehorse's power comes from its hind legs so look for some well-toned muscles in this area.  A firm, flat tummy is also key, whilst for it to be a good sprinter look for a horse with powerful, muscular hindquarters.
Ears
Ears pointing forward is a pretty sight because it means the horse is totally interested in the upcoming race.
Form
The recent numbers next to the horses' name are the form guide.  Any 1s, 2s, and 3s show good form whilst a 0 represents a finish outside of the top 10.  Do your research to check that the good form of the horse has come in similar races in terms of distance and conditions.
Comments
comments